A different approach:
HPI RS-4 Porsche 911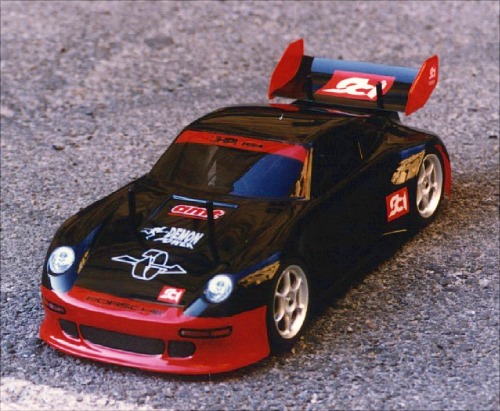 Manufacturer: HPI, Japan
Chassis: carbon fibre, two-deck
Drive: 4WD, belt drive (front), gear drive (rear)
Motor: Power Products Pink 27 turn
Battery: Stick pack 7,2 V
Full set of ball bearings included, oil filled dampers, quick change battery holder.
Options: Front and rear stabilizers, tuning spring set, electronic speed control (SCI Viper).
Really good looking - one of my favourite bodies (besides being a Porsche fan anyway!). And look at the cool wheels - can't see the threaded tires from this angle.
Has been a revolutionary design! Most cars being belt driven at that time ...
---
Page designed 1998-01-06 by paul.